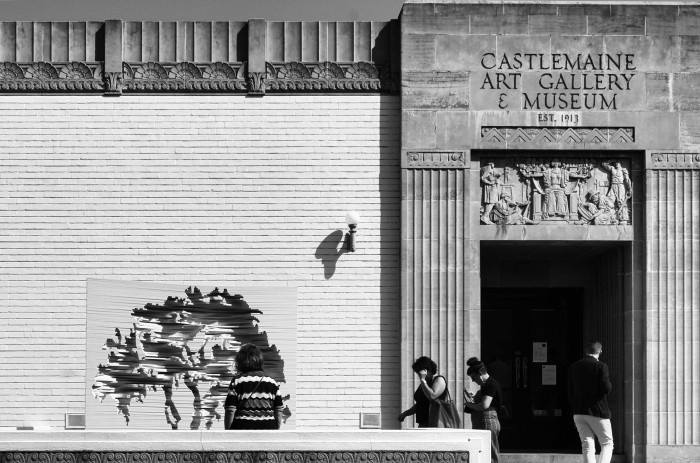 News
Artist Talk: Peter Tyndall
Sunday 10 July, 2:00pm — Sunday 10 July, 3:00pm
Join us for a floor talk with artist Peter Tyndall, discussing his current exhibition SINCLAIR+GALLERY at the Castlemaine Art Museum on Sunday 10 July, 2pm.
The exhibition Peter Tyndall: SINCLAIR+GALLERY first took shape on a series of small Spirax notebook pages. In this artist talk, Peter Tyndall will meditate on his habits of note taking, and the relationship of his vast collection of Spirax jottings to his finished artworks.
Peter Tyndall is represented by Anna Schwartz Gallery.
Where: Castlemaine Art Museum
Date: Sunday 10 July
Time: 2 – 3pm
Cost: Free

No RSVP required.
Read more
Terrace Nights: Zoe Scoglio, 'Agri-Cultures' and Reflections Exhibition Opening
Friday 15 July, 6:00pm — Friday 15 July, 8:30pm
CAM invites you to Terrace Nights: the opening of our latest Terrace Projection and a new exhibition in the Higgins and Benefactors Galleries.
Please join us at the gallery on Friday 15 July, 6pm for the launch of Terrace Projections: Agri-Cultures, a projection commission by local artist Zoe Scoglio, and the exhibition opening of Reflections on the Castlemaine Art Museum Collection.
Drinks and light refreshments provided.


Terrace Projection: Zoe Scoglio, Agri-Cultures
Agri-Cultures is a commissioned video work by local artist Zoe Scoglio in dialogue with local small-scale farmers Gung Hoe growers in response to the theme 'Industry.' Focusing on the manual labours and tactile relations, this is a visual portrait of the daily regenerative wholistic practices and emergent cultures at the Harcourt Organic Farming Co-op. As a volunteer at Gung Hoe Growers, this commission was an opportunity for Zoe Scoglio to enter more deeply into conversation and to further learn from and attend to the practices of daily care-full cultivation.
Reflections on the Castlemaine Art Museum
Reflections began as part of CAM's online response to Covid lockdowns. This exhibition presents a selection of works from the art museum collection, accompanied by a written Reflection from a diverse range of contributors. Contributors are asked to 'reflect' on works or objects from the CAM collections and history – opening our art and museum collections to new voices and knowledge.
These exhibitions are supported by the Restart Investment to Sustain and Expand (RISE) Fund – an Australian Government initiative; Christine Bell; and Castlemaine Mail.
Where: Castlemaine Art Museum
Date: Friday 15 July
Time: 6pm
Cost: Free

Please RSVP here.
Read more